Remarks by Admiral Eric Olson, USN
November 2010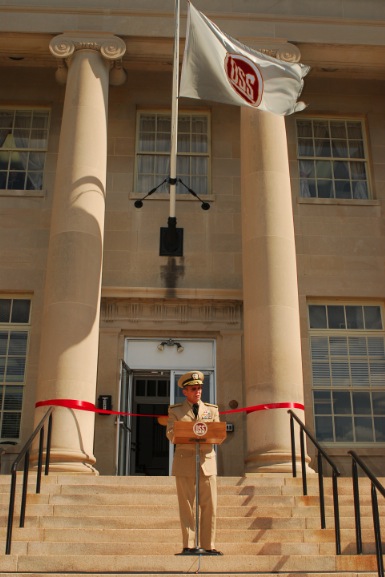 Remarks for Admiral Eric T. Olson For Dedication Ceremony for the William J. Donovan Conference Room at The Department of State
1300 / 01 October 2010
Good afternoon. Under Secretary of State Kennedy, thank you for that kind introduction – I am honored to be here and in the presence of so many heroes. Today's ceremony is a fitting tribute to one of our Nation's finest and most innovative leaders – a heroic military officer, dedicated public servant, and most importantly, a PATRIOT… who consistently answered the bell for his country.
I would like to start by welcoming a few of the distinguished guests here today, Ambassador Hugh Montgomery, Director Robert Becker, Misters Dan and Charles Pinck, Generals Brown and Hughes, and most importantly the brave men and women of the Office of Strategic Services who are here today.
As everyone here knows - almost seven decades ago, President Franklin Roosevelt asked his Columbia Law School classmate; a powerful Wall Street lawyer, retired Army Colonel, and World War I Medal of Honor recipient, to evaluate the global security challenges faced by the U.S. military and provide strategic recommendations on how to best meet America's intelligence requirements. This was a watershed moment in U.S. military history. Based on William Donovan's recommendations –President Roosevelt appointed him the Coordinator of Information (COI) in July 1941 and less than a year later, America was engulfed in World War II; Donovan's COI evolved into the Office of Strategic Services (OSS); and Wall Street Lawyer Bill Donovan was once again Colonel "Wild Bill" Donovan. World War II's OSS was not like any other government agency in American history – established to meet the special conditions of WWII and tasked with intelligence and operations – the OSS was an enigma.
U.S. Special Operations Command traces its lineage to Major General Donovan's OSS, as reflected in the emblem we wear and the unconventional warfare missions we train for and execute around the globe. However, it is not only the special operations and intelligence communities that benefited from Donovan's patriotic service, the State Department also has reason to honor former Ambassador Donovan for his service as a post-war diplomat in Europe and as President Eisenhower's Ambassador to Thailand in 1953. Major General Donovan was a man of many diverse endeavors and as President Eisenhower referred to him – quite possibly the "Last Hero."
By all accounts, Major General Donovan was an imaginative, forceful, and dominating figure who was both loved and feared by the men and women of the OSS. He encouraged independence to the extreme and built the OSS on the characteristics of ingenuity, flexibility, self-reliance and risk-taking - traits that remain imperative to today's SOF operators. For this reason, Major General Donovan is widely recognized as the "spiritual god father" of modern-day special operations. That said, as I was preparing for this afternoon's ceremony, I tried to imagine what Wild Bill would think of this formal recognition. I finally concluded that given the General's enduring impact on both the Defense and Intelligence establishments, it is only fitting that we recognize and remember him here at the center of American foreign policy. However, it did cross my mind that considering General Donovan's well-known disdain for bureaucracy and high regard for innovation, improvisation, and independence – I think he might have preferred to have his office in Silicon Valley, Hollywood, or even behind enemy lines.
As we honor Major General Donovan today, we must remember that the past must be a force that propels us into the future. It must compel us to examine the circumstances and the men that carried us to this point in history. It cannot merely be a hollow memory that we look back upon during countless annual celebrations. In this light, Wild Bill Donovan was not only a World War I hero and accomplished World War II leader but more importantly, he is a current, albeit seasoned, strategist for today's and tomorrow's most pressing security challenges. Never before or since has one man so effectively merged men and women of varying backgrounds, skills, and motivations into an organization that accomplished so much but whose members were so few. The OSS brought together actors, authors, politicians, athletes, titans of industry, and numerous others to accomplish a single objective – "to merge operations with intelligence with great effect," - "Wild Bill" Donovan's "glorious amateurs" were hand-selected recruits from across the American landscape who were encouraged to improvise and innovate. Considering the importance of his objective, I would theorize that General Donovan would have wanted the two organizations that resulted from his brief experiment to optimize the most important characteristics of the OSS and be more OSS-like and less DoD-like.
If we use Donovan's OSS-model to briefly examine how SOF has changed since 9/11, we can surmise that shooting has not changed significantly – we still shoot to kill. The movement and maneuverability of forces has changed significantly as technology has given rise to MRAPS, mini-submarines, and all matter of mobility platforms. However, it is our ability to communicate and gather data from a fully networked battlefield that is revolutionary. Like the OSS veterans of yesterday, SOF's next step must be an increased contextual understanding of the places we operate and the enemies we face. Special operations forces must continue to thrive in ambiguous and uncertain environments and against our fiercest and most determined adversaries. To do so, we must continuously scrutinize ourselves, fearlessly address our shortfalls, and ultimately appreciate and master the cultural nuances of today's ever-changing security environment. Major General Donovan's visionary leadership style combined with the OSS's innovative battlefield successes provide an outstanding operational template and may represent the path of tomorrow's SOF.
Few quotes attributed to Wild Bill Donovan over the years are more timeless than the following two when we look back and remember his accomplishments and simultaneously use his OSS-model to look into the future. When asked to describe the ideal OSS candidate, Donovan once said a "Ph.D. who can win a bar fight," - in making this description Wild Bill accurately captured the characteristics and traits that have always described our country's elite fighting forces…intelligent, agile, fierce, capable, and tough. Donovan also said, "We were not afraid to make mistakes because we were not afraid to try things that had not been tried before." If the first quote addresses the personnel requirements for tomorrow's SOF then the second quote completes the equation and forces today's leaders to look into the future and search the voids between authorities and policies, processes and procedures, and finally between operations and intelligence. How will we most effectively fill these gaps in the future – I think that Wild Bill had the answer almost 70 years ago?
Thank you for allowing me to participate in today's ceremony. Like General Donovan – this conference room will continue to bring innovative minds together in the pursuit of excellence for decades to come.