Gen. David Petraeus Receives the William J. Donovan Award®
June 2009
PR Newswire

Remarks by General Petraeus


SEE MORE PHOTOS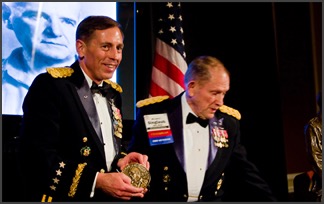 Gen. David H. Petraeus, commanding general, U.S. Central Command, received the William J. Donovan Award from The OSS Society on May 2, 2009 at an event attended by more than 600 people in Washington at the Mandarin Oriental Hotel.
The William J. Donovan Award is named after the founder of World War II's Office of Strategic Services (OSS), Maj. Gen. William "Wild Bill" Donovan.
OSS was the forerunner of the Central Intelligence Agency and U.S. Special Operations Forces.
Donovan is the only American to have received our nation's four highest decorations, including the Medal of Honor.
Charles Pinck, OSS Society president, said, "In much the same manner that General Donovan created a revolutionary new organization capable of waging unconventional warfare with OSS, General Petraeus has revolutionized the Army's view of counterinsurgency by challenging conventional wisdom, by recruiting supremely talented and diverse people to help him, and by overcoming formidable internal and external obstacles to turn the tide in Iraq and, we hope, in Afghanistan."
In his intoduction of Petraeus, Maj. Gen. John K. Singlub, USA, Ret., a 2007 award recipient and OSS Society chairman, said "The William J. Donovan Award is given to an individual who has rendered distinguished service in the interests of the democratic process, public service, courage in all its forms and the cause of freedom."
Adding, "General Petraeus' leadership of our nation's military in Iraq and Afghanistan has been nothing less than revolutionary and inspirational.
"He has, by the force of his formidable intelect, remarkable leadership abilities, adept political skills and courage, transformed the United States Army and its approach to counterinsurgency.

"Tonight, we honor General Petraeus for all that he has done and all that he will do on behalf of our nation."

In his remarks, Petraeus said, "It has been the greatest of privleges to have been allowed to serve our country in uniform over the past 35 years. It has been a particular honor to have served with our great young men and women in Iraq for four of these years."

Paying tribute to Gen. "Wild Bill" Donovan and the "Pioneers of our nation's intelligence community" who think "outside the box," Petraeus said, "America's intelligence professionals and special operators, like their OSS forbears, provide exceptional strategic and tactical intelligence, and conduct demanding special operation...

"Their goal is to ensure that our troopers are never are never engaged in a fair fight."

He also noted that today's intelligence operations professionals are constantly developing new ways of collecting, analylizing, sharing, and fusing intelligence - as well as new ways of conducting demanding special operations missions.

Petraeus said that the "most powerful tool our troopers carries into battle is not his weapon, but his mind - and that is particlarly true of those who today carry on the traditions of the OSS in places like Iraq, Afghanistan and Pakistan."

Dr. Christian J. Lambertsen, an OSS veteran and a pioneer in underwater warfare, was also honored at the event along with Ross Perot.

Previous recipients of the William J. Donovan Award include Presidents Eisenhower, Reagan, and Bush; Prime Minister Margaret Thatcher, Sir William Stephenson, Allen Dulles, Richard Helms, William Colby, William Casey, Ralph Bunche and William Webster.